Dainton Self Storage, Darlington -
01325 489562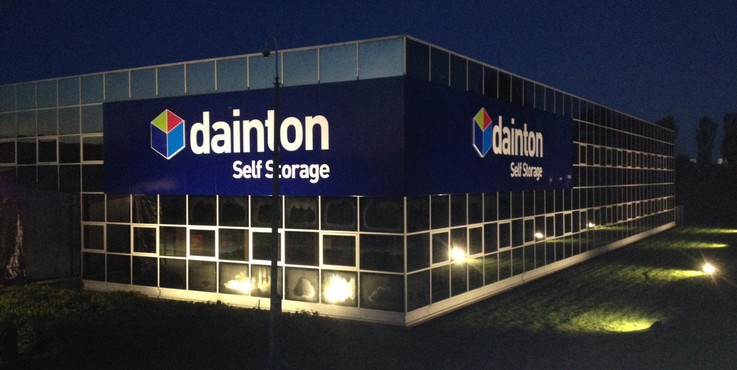 COVID-19 Update
50% Off for the first 8 weeks*
Limited Time Offer
Student storage at £110 for 12 weeks.*
Our Darlington Self Storage depot has great value indoor and outdoor storage suitable for personal and business use.
Our state-of-the-art self-storage facility has over 300 internal storage rooms and external container units to suit all budgets. Located just off the Yarm Road with easy access to the town centre and the A66 it is a great choice for both business and personal customers.
Drive to the entrance and use one of our trolleys to take your goods to your individual internal room or drive up to the door of your secure external unit. Either way we are open 7 days a week and our dedicated team are on hand during reception opening hours to advise and assist you. (T&Cs)
50% Off First 8 weeks internal storage.*
Receive 1 month free cover when you protect your items with StoreGuard.*
10% Off for all Armed Services, NHS Staff, Prison staff, Lifeguards and Police.*
Refer a friend & you both receive 1 month of self storage FREE.*
10% OFF for all NUS students and Over 65's.*
Student storage at £110 for 12 weeks.*
Pay 11 months and get the 12th month FREE.*
Price match. Bring an equivalent quote from an alternative storage company and as long as we have availability, we'll match it.*
We accept and hold courier deliveries for our customers
Internal storage units from £51 per month
External drive up units 80 sq ft 160 sq ft
Internal storage spaces from 25 square feet, up to 325 square feet external units
Fully trained and helpful staff on-site to assist
Visit Dainton, Darlington
Address:
Dainton Self Storage, Dainton House, Yarm Road, Darlington, County Durham, DL1 4JN.
Tel: 01325 489562
Email: darlington@dainton.com
Directions
Opening Times:
Monday to Friday 08:30 to 17:30
Saturday 09:00 to 16:00
Sunday 10:00 to 16:00
Reception Closed Bank Holidays
Electronic Access:
07:00 to 21:00, 365 days of the year.
24 hour access by arrangement.
Amenities:

Internal and external storage units available
We accept and hold courier deliveries for our customers
Direct vehicle access to our drive up units for easy loading and unloading
24 hour CCTV and electronic access
Free out-of-hours access to your storage unit 7 days a week
What to bring
2 forms of ID. One should be photographic (drivers license, passport, etc) & one should show your address (utility bill issued in the last 3 months).
Payment (credit/debit card or cash). Please bring your direct debit details as well.
A padlock - or you can purchase one from our reception if you'd prefer.
INSURANCE: We do require you to protect your possessions when you store with us. Please provide proof of cover or alternatively join our specialist policy and we will give you the first month for FREE! Find out more.